News
PKSF Observes National Mourning Day
PKSF Observes National Mourning Day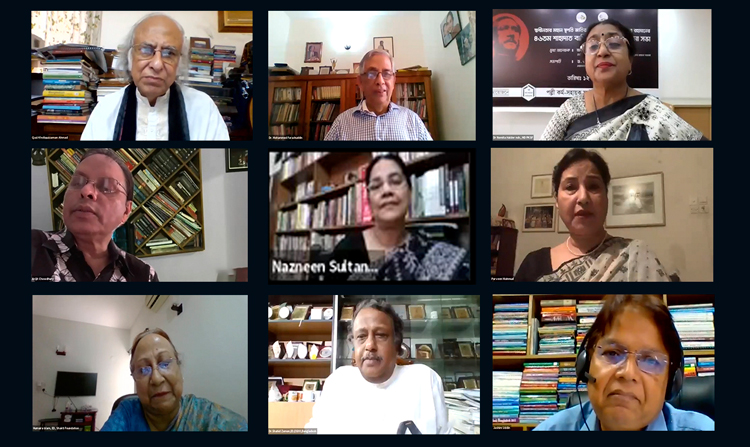 Bangabandhu Sheikh Mujibur Rahman appealed to the Speaker of the Constituent Assembly of Pakistan not to use "Pakistan" to refer to East "Bengal".  He proclaimed the historic Six Points right in Lahore in those days. These and many such comments were made by Dr Mohammed Farashuddin, once a Private Secretary to Bangabandhu, and former Governor of Bangladesh Bank, in a webinar organized by Palli Karma-Sahayak Foundation (PKSF) on 12 August 2021 to mark the 46th anniversary of martyrdom of the Father of the Nation Bangabandhu Sheikh Mujibur Rahman.
Dr Mohammed Farashuddin, the Founder Vice Chancellor of East West University graced the event as the keynote speaker. PKSF Chairman Dr Qazi Kholiquzzaman Ahmad chaired the virtual session, attended by nearly 500 persons including the representatives of the Partner Organizations (POs) across the country.
PKSF Chairman Dr Qazi Kholiquzzaman Ahmad referred to the historic address by Bangabandhu on 7 March 1971. He said that PKSF upholds Bangabandhu's ideology in its endeavors to serve the poor through multiple interventions. He also referred to the 'Brotochari movement' with which Bangabandhu was involved.
Dr Nomita Halder ndc, Managing Director, PKSF delivered the welcome speech and moderated the event. Dr Halder shared a reminiscence of an innocent girl of Rangpur who, in the early days of independent Bangladesh, bumped into the circuit house to beg an autograph of the Father of Nation. Dr Halder asked all to transform the sense of mourning into strength and to go forward to build up a prosperous Bangladesh.
Among others, PKSF Governing Body Members Mr Arijit Chowdhury, Ms Parveen Mahmud and Ms Nazneen Sultana and Executive Directors of 2 PKSF POs – Ms Humaira Islam and Dr Md Shahid Uz Zaman, who are also members of PKSF General Body, spoke in the event.