News
PKSF Employees Receive the New Managing Director Virtually
PKSF Employees Receive the New Managing Director Virtually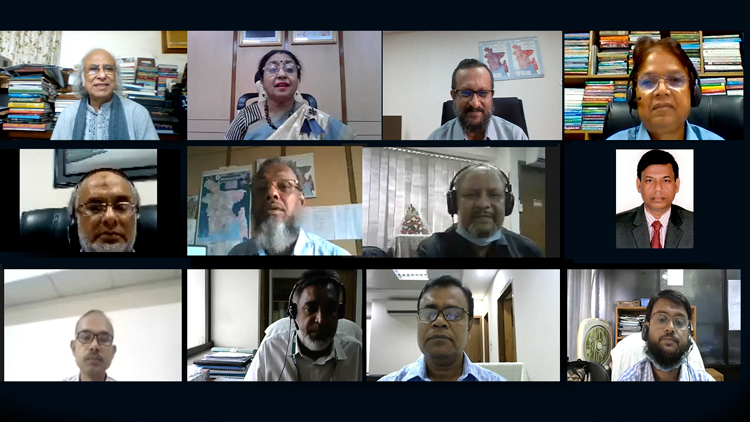 Under the Covid-19 pandemic, the PKSF employees were constrained to accord reception to their new Managing Director, Dr Nomita Halder ndc on the virtual platform, which, of course, had no dearth of usual warmth and sincerity. The reception meeting, presided over by Dr Qazi Kholiquzzaman Ahmad, Chairman, Palli Karma-Sahayak Foundation (PKSF) took place on Wednesday August 11, 2021 at PKSF Bhaban. Attended by more than 300 participants, the meeting was anchored by Dr Md Jashim Uddin, the newly appointed Additional Managing Director, who also delivered a brief introduction of the new Managing Director. A former Secretary of the Government of Bangladesh, Dr Halder took office earlier on 08 August 2021 for a 3-year term.
Employees representing every stratum of PKSF officials spoke on the occasion. All of them were found to be simply pleased to a have woman to lead this apex development organization of the country that signifies the reflection of the empowerment of women, which, amongst other things, PKSF strongly advocates. The PKSF officials expressed their satisfaction at working with this organization that always upholds accountability, integrity, transparency and gender equality characterized by efficiency of performance. Among others, Mr Md Fazlul Kader, Additional Managing Director and Mr Golam Touhid, Senior Deputy Managing Director spoke on the occasion.
Dr Nomita Halder ndc, the new Managing Director expressed her pleasure to become a part of PKSF, which has, over the years, made its mark in the areas of poverty alleviation and rural development. She stressed on the organizational culture of the workplace and pronounced her commitment to work for the vulnerable and marginalized poor folks.
Dr Qazi Kholiquzzaman Ahmad briefly touched on the ideals that constitute the economic philosophy of PKSF's interventions. He also underlined the evolution of PKSF from a sort of microcredit organization to a people's platform that seriously attempts to address the needs of the poor from what we say 'from conception to coffin'.
Though a virtual meeting, it had all the qualities of the sense of solidarity and togetherness.