News
'PKSF's role in socio-economic development is remarkable' – PKSF Chairman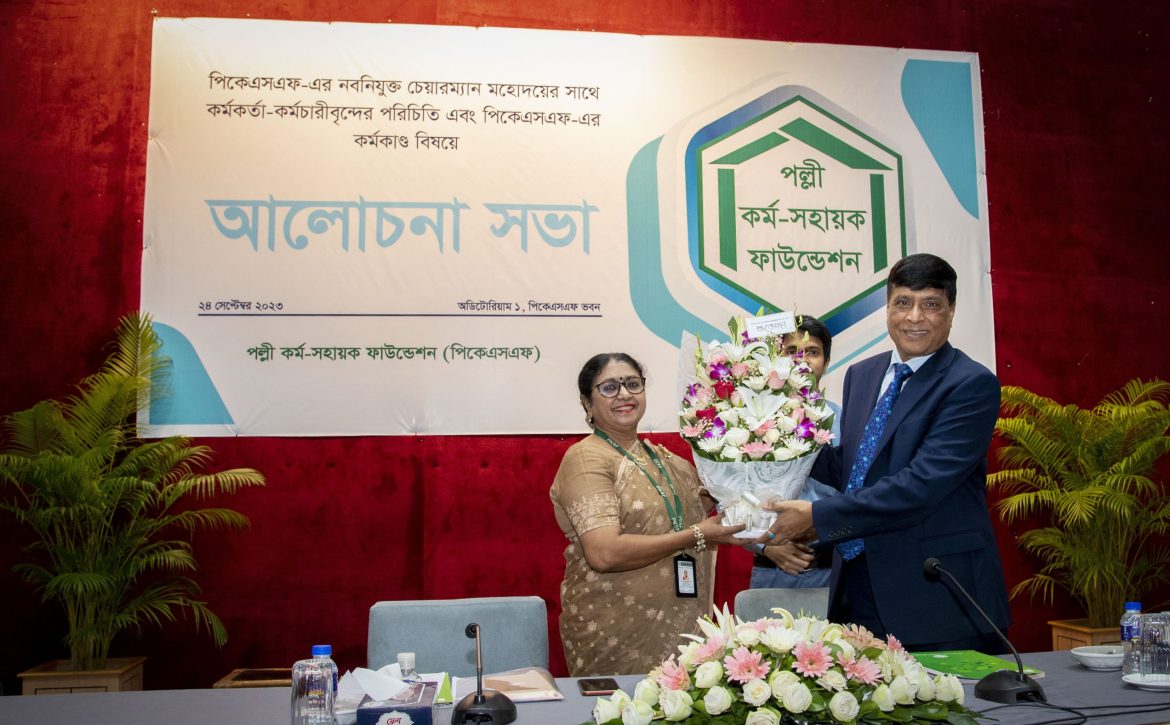 The role of PKSF in positively changing the mindset of the rural people and developing their socio-economic conditions is remarkable, said Dr M Khairul Hossain, the newly appointed Chairman of Palli Karma-Sahayak Foundation (PKSF).
He made the comment at PKSF Bhaban on 24 September 2023 while speaking at an orientation session and special discussion program participated by PKSF employees of all levels.
Dr Hossain highly praised the "unquestionable dedication, sincerity and integrity" of PKSF employees, which laid the foundation of PKSF's exemplary success in the field of sustainable poverty alleviation. Mentioning that PKSF currently is delivering financial and non-financial services to around 1.9 crore families of Bangladesh, he urged all the employees of PKSF to work more diligently to combat the development challenges that may arise in future.
Earlier, in her speech, PKSF Managing Director Dr Nomita Halder ndc welcomed the newly appointed Chairman of PKSF and formally introduced him to PKSF employees.
A documentary on the overall activities of PKSF was screened on the occasion, and Dr AKM Nuruzzaman, General Manager (Program) presented on PKSF's creation, evolution, successes, future challenges and ways out.
Others who spoke at the event included Additional Managing Directors Md Fazlul Kader and Dr Md Jashim Uddin; Senior Deputy Managing Director Golam Touhid; Deputy Managing Directors AQM Golam Mawla, Md Mashiar Rahman, Dr Fazle Rabbi Sadeque Ahmed, and Md Hasan Khaled; and General Manager (Audit) A Khaleque Miah.
On 12 September 2023, the Government of Bangladesh appointed Professor Dr M Khairul Hossain as the Chairman of PKSF for the next three years. He was a Professor of Finance at the University of Dhaka. Dr Hossain also served as the Chairman of Bangladesh Securities and Exchange Commission (BSEC) and the Investment Corporation of Bangladesh (ICB).