News
Workshop on Lumpy Skin Disease held
Workshop on
Impact of Lumpy Skin Disease on Livestock Production and
its Controlling Measures in Bangladesh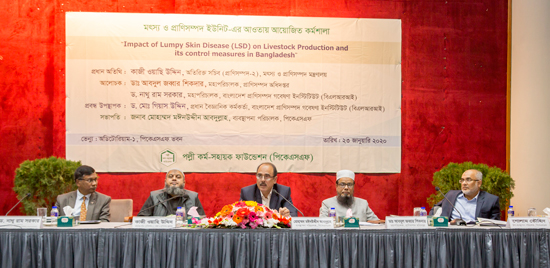 Palli Karma-Sahayak Foundation (PKSF) organized a workshop titled 'Impact of Lumpy Skin Disease on Livestock Production and its Controlling Measures in Bangladesh' on 23 January 2020. Mr Kazi Wasi Uddin, Additional Secretary (Livestock-2), Ministry of Fisheries and Livestock was the Chief Guest of the program, presided over by Mr Mohammad Moinuddin Abdullah, Managing Director of PKSF. Mr Golam Touhid, Deputy Managing Director of PKSF delivered the welcome remarks. Dr Md Gias Uddin, Scientific Officer and Departmental Head, Bangladesh LivestockResearch Institute (BLRI), presented the keynote paper.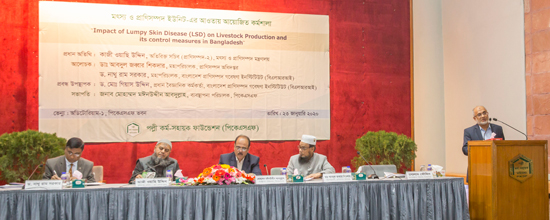 Dr Sharif Ahmed Chowdhury, General Manager of PKSF gave his presentation on 'PKSF's Role in Livestock Production for Sustainable Development'.
Dr Nathu Ram Sarkar, General Director, BLRI and Dr Abdul Jabbar Shikder, Director General, Livestock Department, BLRI were discussants at the workshop.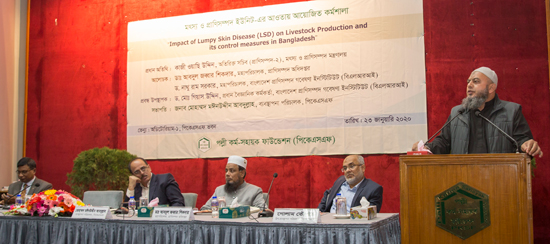 Mr Kazi Wasi Uddin, the Chief Guest of the workshop, informed the house that the Animal Research Institute is working on a vaccine to prevent the 'Lumpy Skin Disease' of cattle. Currently, the department concerned is using 'Goat Pox Vaccine' to prevent the disease. Around 5 lac vaccines have already been distributed at the field-level, added the Chief Guest. 
Mr Mohammad Moinuddin Abdullah, Managing Director of PKSF, emphasized on raising awareness on 'Lumpy Skin Disease' of cattle to minimize its adverse impacts. He also explored the potentials of livestock sector in poverty alleviation.
Concerned stakeholders shared their opinions in the open discussion session of the workshop. A total of 275 persons — 37 from concerned ministry and governmental organizations, 160 from PKSF's Partner Organizations and the rest from PKSF – attended the program.