News
'Bangabandhu's work is larger than his life'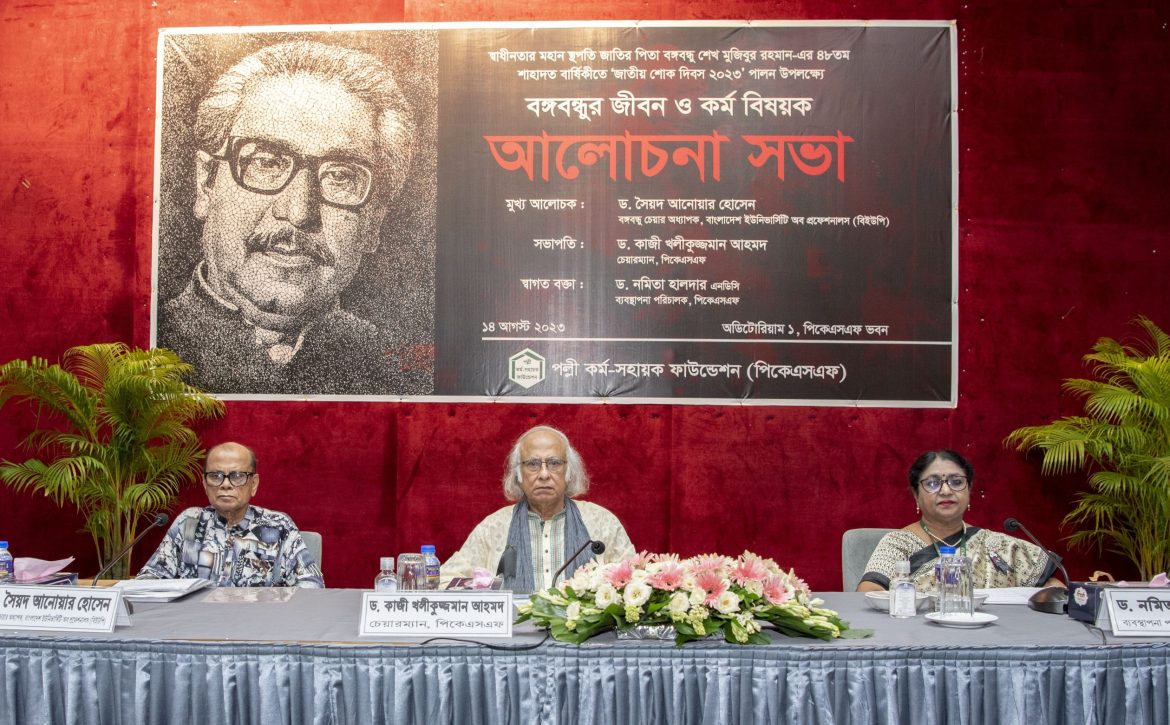 Palli Karma-Sahayak Foundation (PKSF) on 14 August 2023 organized a special discussion to commemorate Father of the Nation Bangabandhu Sheikh Mujibur Rahman and his family members who were assassinated on 15 August 1975. The day is observed as the National Mourning Day in Bangladesh.
Celebrated historian Prof Dr Syed Anwar Husain, Bangabandhu Chair, Bangladesh University of Professionals (BUP), was the main discussant of the event, presided over by PKSF Chairman Dr Qazi Kholiquzzaman Ahmad and anchored by PKSF Managing Director Dr Nomita Halder ndc. She also gave the welcome speech at the program held at PKSF Bhaban.   
Recalling Bangabandhu's foresight, Dr Anwar Husain said that Bangabandhu's work is larger than his life. Mujib's achievements in his life are far greater than those of many other world leaders, he commented.
Dr Qazi Kholiquzzaman said that the respect we pay to Bangabandhu will be meaningful only when the rights of the people of this country will be ensured and equality will be established in society. He said that Bagabandhu's dream was to put smiles on the poverty-stricken faces. The PKSF Chairman urged everyone to uphold Bangabandhu's idea of human-centered development for all.
Dr Nomita Halder ndc, in her speech, said the lesson from this program is 'actions matter more than words', a principle that Bangabandhu upheld throughout his life. 
A documentary titled 'Bangabandhu: Bajre Tomar Baje Bashi' was screened during the event that ended with a chorus performance of the 'Jodi raat pohale shona jeto Bangabandhu more nai' song. 
Other events to mark this occasion include PKSF employees wearing black badges, offering special prayers at PKSF Mosque, hoisting the national flag at half-mast on 15 August and placing wreaths at the portrait of the Father of the Nation at Dhanmondi in Dhaka on 15 August.