News
PKSF-EU launch new project to tackle extreme poverty in Bangladesh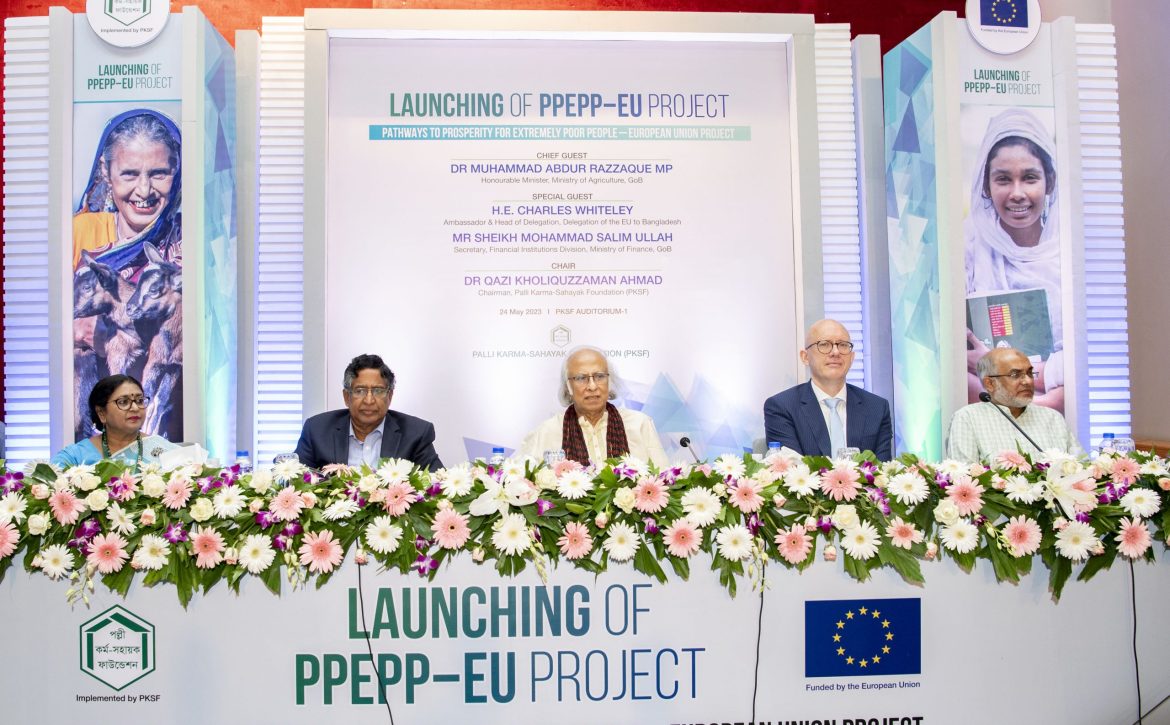 To address extreme poverty in the country's lagging regions, development organisations should focus on inclusive growth, Agriculture Minister Dr Muhammad Abdur Razzaque MP said at the launching workshop of Pathways to Prosperity for Extremely Poor People – European Union (PPEPP-EU) Project at PKSF Bhaban at Agargaon, Dhaka on 24 May 2023.
Palli Karma-Sahayak Foundation (PKSF) is implementing the project to lift some 860,000 extremely poor people of 215,000 households in 145 unions of 34 upazilas in 12 climate-vulnerable districts where poverty rate is high. Funded by the EU, the EURO 22.81 million (grants) project is providing support around resilient livelihoods, inclusive finance, nutrition and primary healthcare, women empowerment, disability inclusion, climate-resilience building and community mobilisation.
Speaking as the chief guest, the agriculture minister despite significant achievement in reducing poverty, there are still some areas in the country's north, south, haor and hills where poverty rates are high. He expressed his hope that the PPEPP-EU project would make significant contributions to Bangladesh government's efforts to further reduce poverty and attain the Sustainable Development Goals.
PKSF Chairman Dr Qazi Kholiquzzaman Ahmad chaired the event, where Mr Charles Whitely, Ambassador & Head of Delegation, Delegation of the European Union to Bangladesh, spoke as a special guest.
In her opening speech, PKSF Managing Director Dr Nomita Halder ndc said that PKSF's strength lies in implementing impactful yet low-cost projects that create sustainable income opportunities for the target households.
Mr Charles Whitely, the EU Ambassador, said the PPEPP-EU project was a testimony to EU's continuous commitment to eradication of poverty and inequality in Bangladesh. He also reiterated EU's commitment to work with the Bangladesh government for inclusive growth as Bangladesh transitions towards a Middle Income Country where "no one is left behind."
Currently, PKSF is providing financial, technical and social support to as many as 18 million households of the country for their economic and social development, PKSF chairman said.