News
Special Event to Celebrate 'Mujib Year' & Golden Jubilee of Independence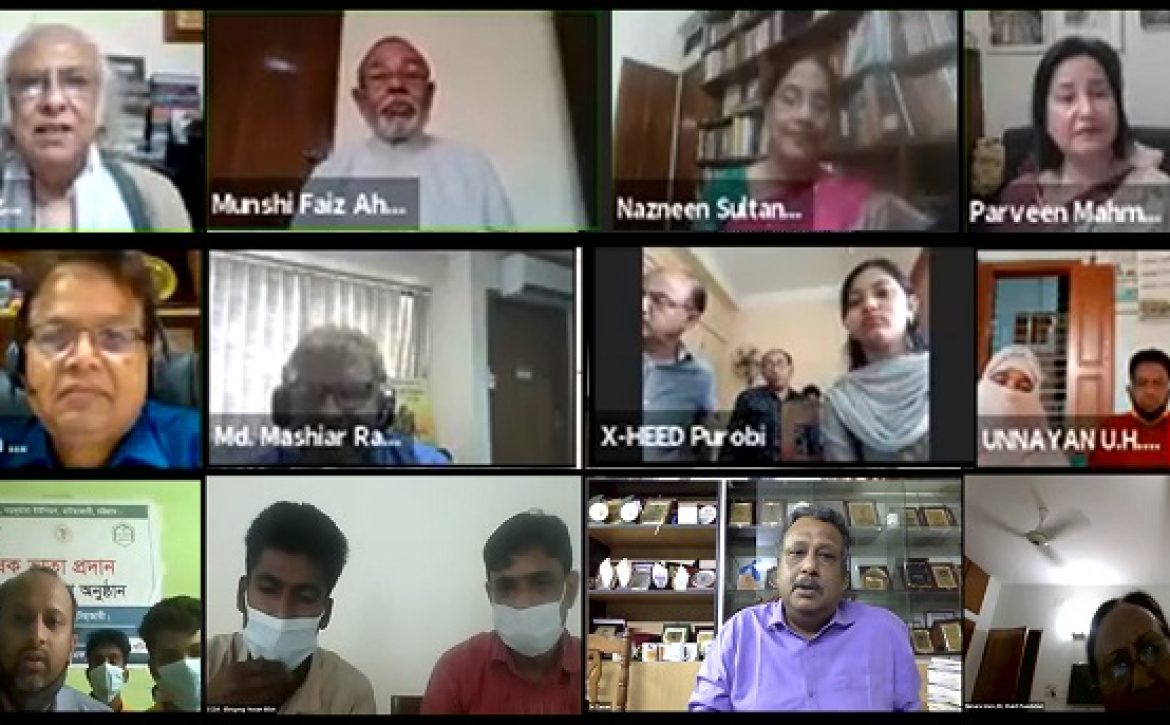 Special Event to Celebrate 'Mujib Year' & Golden Jubilee of Independence
With the entire nation, Palli Karma-Sahayak Foundation (PKSF) too is celebrating the birth centenary of the Father of the Nation Bangabandhu Sheikh Mujibur Rahman and 50 years of Bangladesh's Independence.
As part of the vast range of activities, PKSF organized a virtual meeting on 16 March 2021 to announce the names of winners who, from several parts of the country, participated in the competitions on A. writing poems, B. writing essays/stories, C. painting, and D. contribution of youths to social services (individual/collective). All themes of the competition excepting category D focused on the life and leadership of Bangabandhu and his contribution to the emergence of Bangladesh.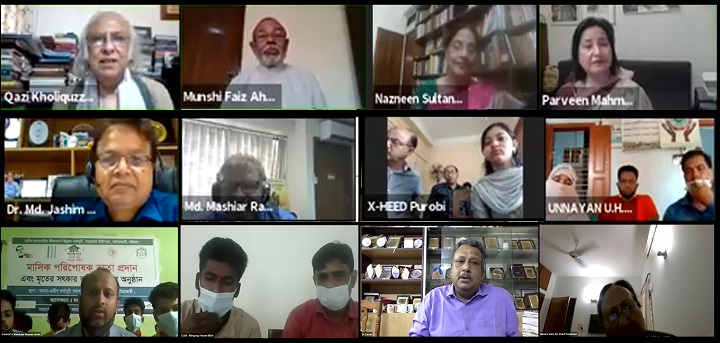 This nation-wide competition was planned, led and conducted by the officials of the ENRICH program of PKSF in collaboration with the Partner Organizations (POs). The key intent of the competition (held from November to December 2020) was to create academic and practical interest about Bangabandhu and the Liberation War of 1971 and infuse patriotism and social commitment among some 2.5 lakh youths, who form a strategic part of ENRICH, in 202 Unions across the country.
Presided over by PKSF Chairman Dr Qazi Kholiquzzaman Ahmad, the event was moderated by Dr Md Jashim Uddin, Deputy Managing Director of PKSF, who delivered the welcome speech and later announced the names of the winners.
A total of 41 (21 females and 20 males) out of 8,820 competitors in 4 categories and 4 groups (for collective contribution to society) were adjudged winners by members of the competent jury boards. The winners expressed their feelings during the event. Two members of the PKSF General Body, who also are the Executive Directors of two POs, Dr Md Shahid-uz-Zaman (Eco-Social Development Organization) and Dr Humaira Islam (Shakti Foundation) delivered speeches as selected discussants.
Three members of the PKSF Governing Body namely, Ambassador Mr Munshi Faiz Ahmad, Ms Nazneen Sultana (former Deputy Governor of Bangladesh Bank) and Ms Parveen Mahmud (Chairperson, UCEP Bangladesh) took part in the discussion.
Around 350 individuals, including PKSF Board members, senior officials, ENRICH team members, Executive Directors and members of PKSF's POs, and the winners of the competition joined the event, which was livestreamed on the PKSF Facebook.