News
PKSF bids farewell to Dr QK Ahmad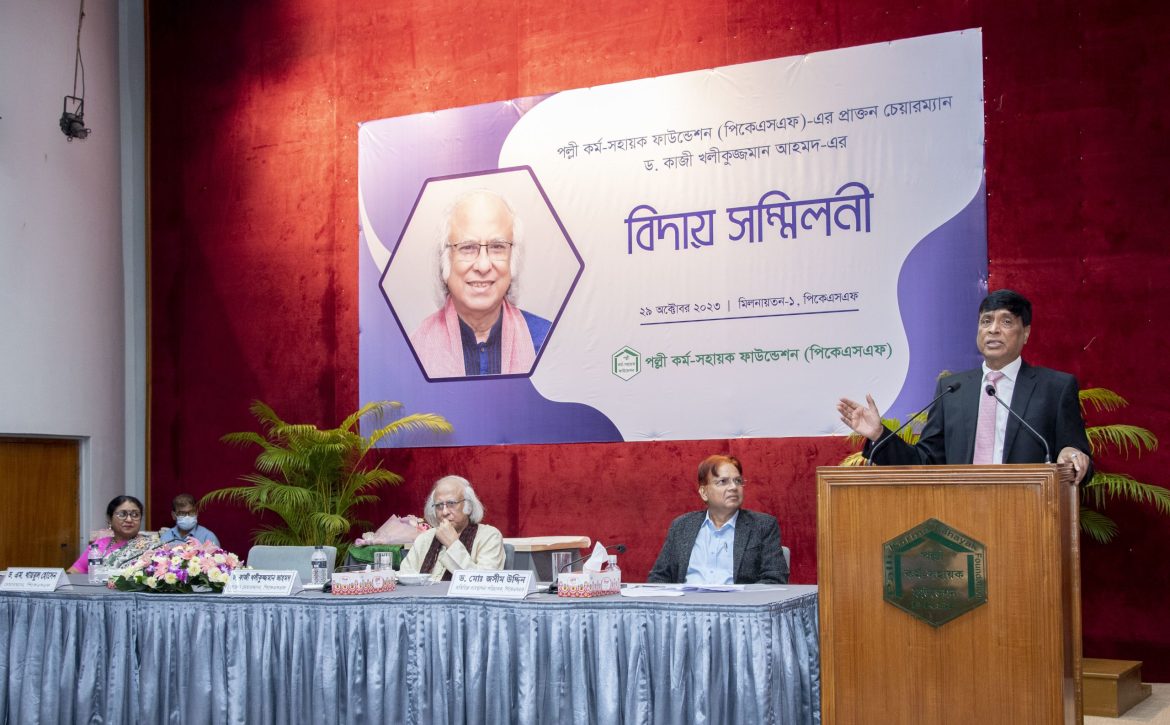 Prominent economist Dr Qazi Kholiquzzaman Ahmad is a wise, thoughtful and benevolent man. Rising above his own personal interest, he is working for the welfare of the people throughout his life. He has made the idea of collective development of people a reality to eliminate the poverty of the country.    
The speakers said this at the farewell event of Dr Qazi Kholiquzzaman Ahmad. The current Chairman of PKSF Dr M Khairul Hossain presided over the event. PKSF Managing Director Dr Nomita Halder ndc gave welcome speech on this occasion.
Dr Kholiquzzaman said Bangabandhu Sheikh Mujibur Rahman struggled throughout his life to bring smiles to the faces of the poor people which is also the main philosophy behind all the activities of PKSF. He expressed hope that PKSF will continue to conduct its activities in line with the same philosophy.  
PKSF Chairman Dr M Khairul Hossain said Dr Qazi Kholiquzzaman Ahmad's role in diversifying the activities of PKSF beyond the limited boundaries of microcredit will be remembered.  
In her welcome speech, Dr Nomita Halder said, Dr QK Ahmad will be an exemplary role model for his human-centric development thoughts. She also remarked that Dr Ahmad has played a leading role in strengthening the institutional capacity of PKSF for more than a decade.
PKSF board members Arijit Chowdhury, Parveen Mahmud fca, Nazneen Sultana, Dr Toufic Ahmad Choudhury and Dr Md Abdul Muyeed, PKSF Additional Managing Director Md Fazlul Kader, Senior Deputy Managing Director Golam Tauhid, Deputy Managing Director Md Mashiar Rahman and other officials spoke on the occasion.
PKSF Additional Managing Director Dr Md Jashim Uddin conducted the program.