Golden Jubilee
Speakers call for practicing Bangabandhu's ideals for a better Bangladesh
Discussion on Mujib Year & Golden Jubilee of Independence
Speakers call for practicing Bangabandhu's ideals for a better Bangladesh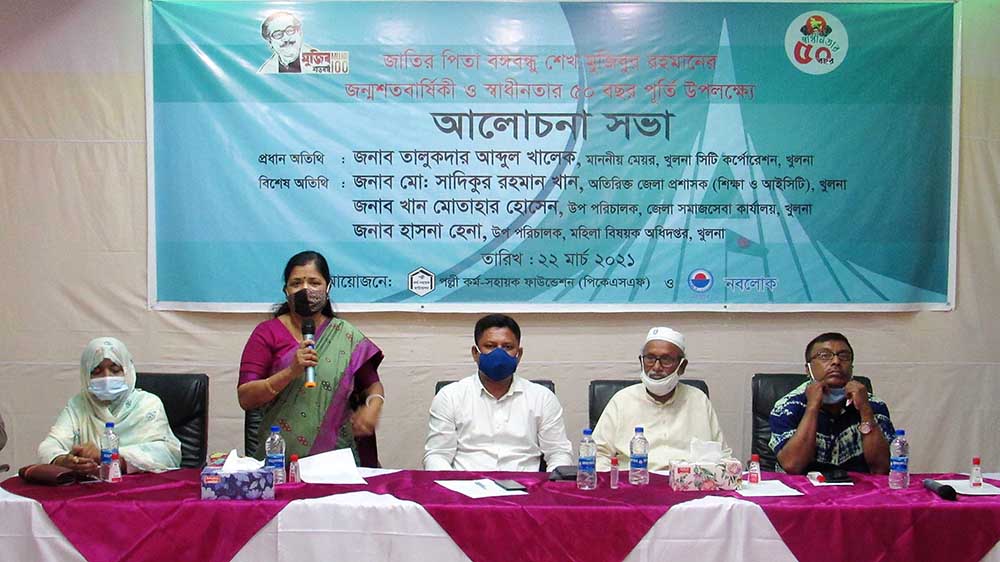 To steer Bangladesh towards becoming a developed nation, everyone in the country should learn and practice the ideals and values of Bangabandhu Sheikh Mujibur Rahman in their sphere of their life. The new generation should thus learn more about the life the Father of the Nation while everyone should vow to protect the Independence of Bangladesh that Bangabandhu had dedicated his life for. Speakers made these comments in a discussion meeting, organized by Palli Karma-Sahayak Foundation (PKSF) through its Partner Organization (PO) NABOLOK, in Khulna on 22 March 2021.
This was part of the series of special programs that PKSF organized in collaboration with its POs in different parts of the country in tune with the Government of Bangladesh's special events from 17-26 March 2021 to mark the birth centenary of Father of the Nation Bangabandhu Sheikh Mujibur Rahman and the golden jubilee of the Independence of Bangladesh.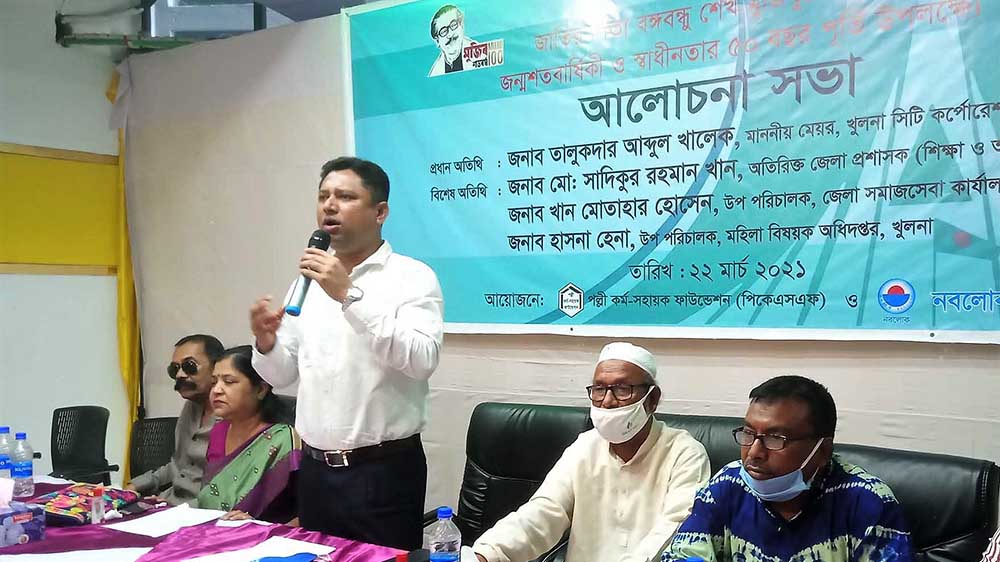 Mr Md Sadikur Rahman Khan, Additional Deputy Commissioner (Education and ICT) of Khulna was the Chief Guest at the event held at a city hotel in Khulna while Mr Khan Motahar Hossain, Deputy Director of Social Services Office, Khulna; Mr Ali Akbar Tipu, Panel Mayor 02; and Advocate Sufia Rahman Shunu, Panel Mayor 03, were the Special Guests. The meeting was chaired by Ms Ajanta Das, Treasurer of NABOLOK.