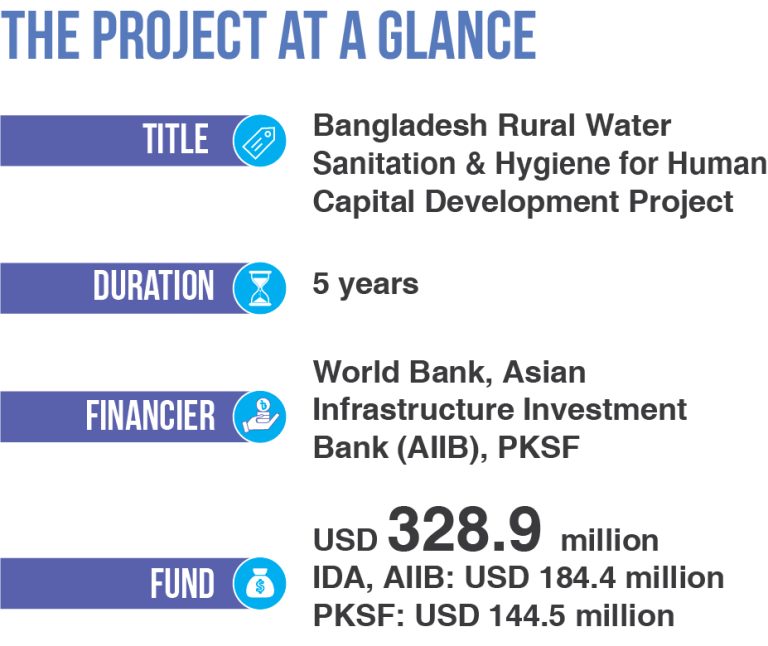 Access to safely managed water supply, sanitation, and hygiene (WASH) facilities is one of the prerequisites of development. Despite significant progress in the economic development in Bangladesh, inadequate WASH services in rural areas remain a major concern for the country. The SDG-6 aims to tackle challenges related to drinking water, sanitation and hygiene as well as to water-related ecosystems. PKSF has thus adopted a demand-driven strategy to promote hygienic toilets by using lending instruments.
PKSF the Bangladesh Rural Water, Sanitation & Hygiene for Human Capital Development Project, co-financed by the Government of Bangladesh, the World Bank and the Asian Infrastructure Investment Bank (AIIB), with the aims of improving access to safely managed water supply and sanitation in selected areas of rural Bangladesh and strengthen institutional capacity for water and sanitation services. The Department of Public Health Engineering (DPHE) and PKSF are jointly implementing specific components of the proje
Training for Local Entrepreneurs: One of the key stakeholders of the project's implementation process in the field, Local Entrepreneurs (LEs) are receiving proper training and other assistances for constructing hygienic toilets and safely managed WASH facilities at the household level. Till June 2022, a total of 633 LEs were provided daylong/two-day training by the Project Management Unit (PMU).
Construction of WASH Facilities: In FY 2021-22, a total of 742 safely managed water supply systems and 2,766 safely managed twin-pit toilets were constructed in the project areas. At the same time, 95 single-pit toilets were upgraded to twin-pit safely managed toilet.
Upazila Coordination Committee (UCC) Meeting: The core purpose of this committee is to ensure proper coordination among the project- implementing Partner Organizations at the Upazila level. The meeting is organized once every three months to discuss and coordinate the project's implementation strategy, LE management, tackling the overlapping issues, training and so on. Despite the Covid-19 pandemic, a total of 105 meetings were held by the POs during the last quarter of the FY 2021-22.
Following the negotiation, both parties signed on the minutes of the meeting and agreed upon finalizing the following documents:
Draft Financing Agreement,

Draft Project Agreement,

Draft Disbursement and Financial Information Letter,

Draft Project Appraisal Document,

Amortization Schedule, and

Environment and Social Commitment Plan