Environment and Climate Change Unit (ECCU)
Environment and development are closely linked with each other. There is always varying degrees of impact of development on the environment. The United Nations has fixed Sustainable Development Goals (SDGs) and its targets for continuing development with environmental sustainability. Like other member countries of the UN, Bangladesh already taken initiatives towards achieving the goals and targets. In addition, climate change puts extra pressure on the development of the country. Environmental conservation, management and to address the negative impacts of climate change is the precondition for ensuring the sustainable development of Bangladesh. Palli Karma-Sahayak Foundation (PKSF) plays important role in the development journey of the country through inclusive financial services, entrepreneur development, health and education services, capacity building and to address climate change issues to keep the country in the sustainable development pathway. As a very dense populated and one of the most vulnerable country due to climate change, environment and climate change is becoming a crucial and important issue for Bangladesh as well as for PKSF. Considering these dimension and important issues, PKSF established 'Environment and Climate Change Unit (ECCU)' in its 189th meeting of the Governing Body.

Objective
The objective of the 'Environment and Climate Change (ECCU)' is to mainstream environment and climate change issues in all of PKSF's activities, projects and programs.

Rationale of Environment and Climate Change Unit
The PKSF is working with around 12 million people through more than eight thousand branch offices of around two hundred fifty partner organizations (Pos). The PKSF and its partners operate multiple development interventions which includes enterprise and livelihood development through farming and non-farming activities, health services, water and sanitation, education, human resource development etc. All these activities have environmental implications and consequences. Besides, climate change has become an integral part of development planning of the country. PKSF always works as an extended hand of the government in its development journey. In this context, the government utilized the expertise and the capacity of PKSF to combat the grass root level negative impacts of climate change through Community Climate Change Project (CCCP) under Bangladesh Climate Change Resilience Fund (BCCRF). Now PKSF is in the way to become accredited entity of Green Climate Fund (GCF) of UNFCCC (United Nations Framework Convention on Climate Change) as a National Implementing Entity (NIE). Besides that, it is observed that the impacts of environmental degradation and the climate change on the POs of PKSF are significant and gradually it is becoming an important issue to address. So, PKSF feels that the newly established 'Environment and Climate Change Unit (ECCU)' will be an extended arm of PKSF to address the issues of environment and climate change.

Scope of Work
The Environment and Climate Change Unit of PKSF is responsible to mainstream the issues of environment and climate change in all of PKSF's activities, projects and programs such as environmental impact assessment and waste management in all activities, suitable adaptation options and protocols for different climate vulnerable areas, appropriate mitigation actions for PKSF etc. The unit will develop environmental protocol and climate change adaptation & appropriate climate change mitigation protocol in accordance with government policy as well as based on the scientific and indigenous knowledge. It will also develop environmental management and compliance strategies for PKSF, Partner Organizations (POs) and the people associated with the activities. The unit will identify the activities which are environment and climate sensitive and develop appropriate framework and practice to address those issues. It will also enhance capacity and awareness level on environmental compliance, management and climate change at PKSF, PO and beneficiary level. The unit will build capacity to its partners on environment and climate change issues so that they are capable to address those in their activities. Addressing climate change is another important working area of the unit. It will work in both adaptation and mitigation of climate change.

Strategic Intervention Areas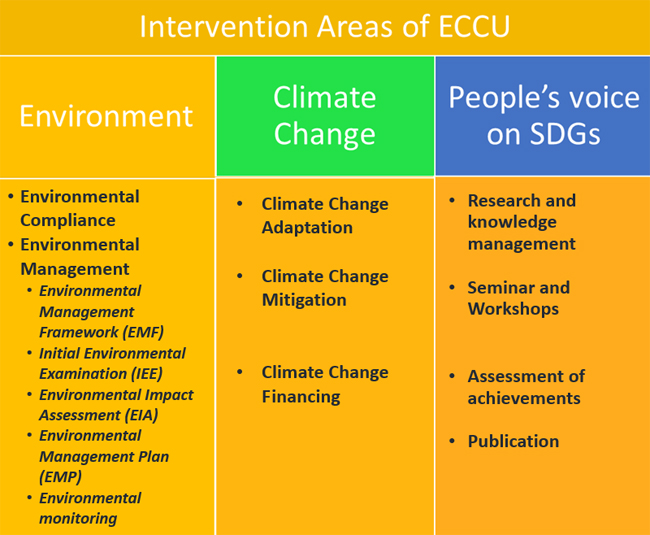 GCF
Palli Karma-Sahayak Foundation (PKSF) was accredited to GCF in its 18th board meeting on 29 September to 03 October, 2017. PKSF works through national and local level NGOs largely known as Partner Organisations (POs). These organisations operates various project/programs including the project/programs relevant to climate change. In addition, various government departments and research institutes show their interest to work with PKSF as DAE of GCF. They are PKSF's important stakeholders in addressing climate change adaptation and mitigation issues in national and local level.
People's Voice Platform
The Board of Directors of the Palli Karma-Sahayak Foundation (PKSF) has formed a platform titled "People's Voice: Strengthening SDG Implementation in Bangladesh" to strengthen the implementation of SDGs by the Government of the People's Republic of Bangladesh in achieving the goals and targets. Dr. Qazi Kholiquzzaman Ahmad is the President of the forum. Three committees have been formed to successfully manage the activities of the platform—1. Advisory Committee (there are representatives of public, private and civil society), 2. Steering Committee (formed by the members of other development partner organizations, including PKSF) and 3. Working Committee (formed by the employees of PKSF).
Though Sustainable Development Goals or SDGs is a modern global development plan but the essence of SDG concepts was built in all activities of PKSF since its establishment in 1990. PKSF started its journey in 1990 with the vision to eradicate poverty through employment generation. In spite of limiting activities to mainly microcredit programs in the first two decades, the SDG targets related to poverty and hunger eradication were built in these activities.
Important Documents
CC National policies and strategies
CCCP manuals
CCCP publication
Environmental acts and rules
GCF
Funding proposal
ESS
Full Funding Proposal
Enhanced Direct Access
Simplified approval process
Gender
Project preparation facilities