Environment and Climate Change Unit (ECCU)
Unless concrete and urgent steps are taken to reduce vulnerability and enhance adaptive capacity of the poor, and unless these actions are mainstreamed into all development strategies for poverty alleviation and sustainable development, as anticipated by scholars, it will be difficult to meet some of the SDGs by 2030. Considering the vulnerability of the poor to the negative impacts of climate change, PKSF established the Environment and Climate Change Unit (ECCU) to facilitate climate-smart interventions, to ensure sustainable poverty reduction. PKSF has been accredited as a Direct Access Entity (DAE) of the Green Climate Fund (GCF) of the United Nations Framework Convention on Climate Change (UNFCCC). This year, PKSF has started implementing 2 projects funded by the GCF.
In addition, PKSF has been accredited as the National Implementing Entity (NIE) by the Washington-based Adaptation Fund. On closer examination of PKSF's capability and continuous achievements, the Adaptation Fund selected PKSF as its NIE in Bangladesh. PKSF is the 34th entity, and the only from Bangladesh, to receive the accreditation of the Adaptation Fund, established in 2001.
Development of Environmental Management Guidelines
The ECCU of PKSF has developed a number of environmental management guidelines for microenterprises and suggested some best practices for promoting sustainable enterprises at the grassroots. The guidelines are:
• Livestock Waste Environmental Management
• Weaving Industries Environmental Management
• Footwear Industries Environmental Management
• Safe Mango Production Environmental Management
• Safe Banana Production Environmental Management
• Hygienic Dry Fish Production Environmental Management
• Safe Vegetable Production Environmental Management
• Dyeing Waste Water of Handloom Industry Environmental Management
• Imitation Jewelry Environmental Management
• Salt Production Environmental Man
Strategic Intervention Areas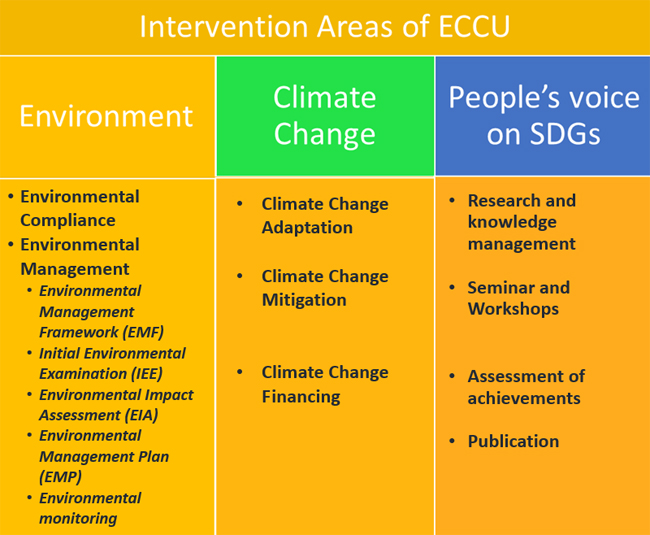 GCF
Palli Karma-Sahayak Foundation (PKSF) was accredited to GCF in its 18th board meeting on 29 September to 03 October, 2017. PKSF works through national and local level NGOs largely known as Partner Organisations (POs). These organisations operates various project/programs including the project/programs relevant to climate change. In addition, various government departments and research institutes show their interest to work with PKSF as DAE of GCF. They are PKSF's important stakeholders in addressing climate change adaptation and mitigation issues in national and local level.
People's Voice Platform
The Board of Directors of the Palli Karma-Sahayak Foundation (PKSF) has formed a platform titled "People's Voice: Strengthening SDG Implementation in Bangladesh" to strengthen the implementation of SDGs by the Government of the People's Republic of Bangladesh in achieving the goals and targets. Dr. Qazi Kholiquzzaman Ahmad is the President of the forum. Three committees have been formed to successfully manage the activities of the platform—1. Advisory Committee (there are representatives of public, private and civil society), 2. Steering Committee (formed by the members of other development partner organizations, including PKSF) and 3. Working Committee (formed by the employees of PKSF).
Though Sustainable Development Goals or SDGs is a modern global development plan but the essence of SDG concepts was built in all activities of PKSF since its establishment in 1990. PKSF started its journey in 1990 with the vision to eradicate poverty through employment generation. In spite of limiting activities to mainly microcredit programs in the first two decades, the SDG targets related to poverty and hunger eradication were built in these activities.
Important Documents
PKSF Internal Audit Assessment Report
CC National policies and strategies
CCCP manuals
CCCP publication
Environmental acts and rules
GCF
Funding proposal
ESS
Full Funding Proposal
Enhanced Direct Access
Simplified approval process
Gender
Project preparation facilities